In loving memory of Mark Levinson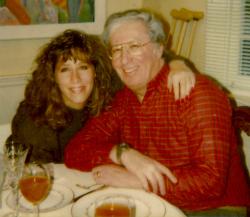 I am the writer behind many of the survivor stories on this website. It has been my privilege to interview lung cancer patients and survivors, each with their own remarkable story. For most, their diagnosis came as a shock. They have all endured various surgeries and treatment plans. All face an uncertain future. Theirs are stories of incredible accomplishments, successes, and hope. Many of them have become fierce advocates for lung cancer research and their hard work is yielding results.
While there has definitely been an improvement in the life expectancy of lung cancer patients, most will still succumb to the disease. It is important that we share those stories as well. That being said, this fundraising page is in memory of my father, Mark, who died of lung cancer in 2006. He was 67 years old.
Please consider donating to help fund more lung cancer research.
ABOUT A Life Remembered: In Tribute
We honor those we've lost to lung cancer by raising funds for lung cancer research. It is through innovative and groundbreaking research that we can dramatically improve the survivorship of lung cancer patients. Because life should take your breath away. Not lung cancer.
"When someone you love becomes a memory, the memory becomes a treasure." - Unknown
---
Proceeds from these tributes will be used to support LCFA's mission
LCFA's mission is the improvement in survivorship of lung cancer patients through the funding of transformative science. While raising funds to support lung cancer research, LCFA will raise the public's awareness and serve as a resource for patients or anyone seeking answers, hope, and access to updated treatment information, scientific investigation, and clinical trials.
Lung Cancer Foundation of America is a 501(c)(3) nonprofit corporation. Your donation is tax-deductible to the full extent of the law.
---
Need help getting started? Check out how to create a page or see our FAQs.
Supporters
Name
Date
Amount
Comments
Patty Watkins
05/17/2019
$100.00
Baruch Schapiro
01/23/2019
$25.00
Total
$125.00
Report Abuse
Edit My Page