In Memory of Rosemarie (Stotler) Pavkov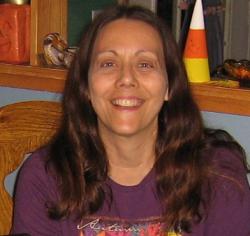 Rosie was diagnosed with stage IV non-small cell, non-smoker lung cancer in October of 2017 - with zero symptoms. We lost her after battling the cancer for almost 2 years, on May 2, 2019. She took her last breaths with both of her children by her side holding her hands. Don't let that happen to other families. Please donate in Rosie's honor and help find new and more effective ways to battle this awful disease.
Thank you for your support!
About Rosie
Rosemarie "Rosie" (Stotler) Pavkov, originally from Wadsworth, passed away on May 2, 2019 with her family by her side at Richmond Virginia's VCU/MCV Massey Cancer Center after battling stage IV non-small cell, non-smoker lung cancer for the last two years. Rosie was born in Wadsworth, Ohio on October 28, 1954. Rosie lived in North Carolina, South Carolina, and Virginia with her husband Milan, son Timothy, and daughter Stacy.
Rosie lived a full life, making a positive imprint on everyone she met. From her work as the head grade mother to all grade school classes – making crafts, specialty decorated cakes, and scenery, decorations, and costumes for plays, dances, and field days - to her teaching work at the Catholic churches and Vacation Bible School, Rosie enjoyed spending as much time as possible with her children and giving back to the communities in which she lived.
Rosie chose to be a homemaker for the majority of her life, ensuring that she was doing everything possible to build a strong and unified family rooted in kindness, love, and compassion. She was always a role model and helped anyone in need. In her spare time, Rosie loved to make crafts with her sister and daughter, spend time with her husband and children exploring parks, museums, and other sights, travelling back to Ohio to visit family, and gardening with her husband. She also loved to try new recipes and bake for friends and family. As a perfectionist – her crafts, baked goods, and scrap-booking were always extraordinary.
Rosie loved life and loved to laugh. She found the best in everyone and everything. It was hard to be in a bad mood around her, as she would always find a way to comfort or cheer you up or make you laugh. A long time ago when her children were working on a school project related to tombstones or how someone would be remembered with a few words, she used to say, if I have an obituary or tombstone, I want it to say "Here lies Rosie. Never a Dull Moment".
In her most recent years, Rosie became a proponent of rescue dogs. She loved spending time with her grand-dogs Rex and Zeke (who also served as her therapy dogs). She absolutely adored and loved her furry family member, Bandit, who is a hyper-active, hugging, ball catching Border Collie. She spent many hours tossing a ball and getting him to jump through hoops and receiving Bandit hugs in return for the play time.
Looking back on her life, Rosie had no regrets. She did everything for family and especially for her children. Left to cherish Rosie's memory are her husband Milan Pavkov, son Timothy Pavkov, daughter Stacy Litchford, son-in-law Quinton Litchford, grandson Ryvir Pavkov, sister Carol First, and brothers Jim Stotler, Tony Stotler, and Joe Stotler.
In lieu of flowers, please consider a donation in Rosie's memory to the Lung Cancer Foundation of America using this page.
ABOUT A Life Remembered: In Tribute
We honor those we've lost to lung cancer by raising funds for lung cancer research. It is through innovative and groundbreaking research that we can dramatically improve the survivorship of lung cancer patients. Because life should take your breath away. Not lung cancer.
"When someone you love becomes a memory, the memory becomes a treasure." - Unknown
---
Proceeds from these tributes will be used to support LCFA's mission
LCFA's mission is the improvement in survivorship of lung cancer patients through the funding of transformative science. While raising funds to support lung cancer research, LCFA will raise the public's awareness and serve as a resource for patients or anyone seeking answers, hope, and access to updated treatment information, scientific investigation, and clinical trials.
Lung Cancer Foundation of America is a 501(c)(3) nonprofit corporation. Your donation is tax-deductible to the full extent of the law.
---
Need help getting started? Check out how to create a page or see our FAQs.
Supporters
Name
Date
Amount
Comments
Katherine Mcandrew
12/05/2019
$50.00
Heidi Berlyak
07/10/2019
$50.00
My prayers are with your family, and hope for a better future for those fighting cancer.
Kelly Krolick
05/28/2019
$50.00
Rose-Ann Boltz
05/17/2019
$50.00
I am so sorry for the loss of your loved one.
Jennifer Chenault
05/13/2019
$50.00
Lauren Taylor
05/10/2019
$50.00
Praying for you all and for a cure for this terrible disease.
Lynn Doherty
05/10/2019
$50.00
Praying for the family left behind and cure for all forms of cancer.
Total
$350.00
Report Abuse
Edit My Page