In Memory of Mary Mackey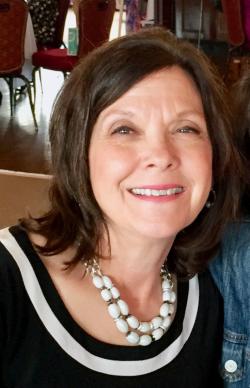 Mary T. Mackey (nee Albanese) went home to the Lord and was reunited with her beautiful son Michael on Monday September 23, 2019 at the young age of 66, while surrounded by her loving family, after a BOLD and COURAGEOUS battle with cancer.

Loving wife to William L. Mackey and the late Robert J. Biancuzzo. Selfless and adored mother to Gina (Scott), the late Michael, Laura, Katie (Mike) and Andrea (Omar). Irreplaceable Yaya to Carter, Gavin, Brady, Zachary, Kaitlyn, Brianna, Billy, Adeline and soon to arrive baby boy Andrade. Nurturing sister to Christine, Dominic (Jean), the late Tony, Annette, Luann, the late Carol, Cathy (Perry) and Paul (Lena). Gentle aunt to Theresa, Mary, Annie, John Paul, Olive, Birdie, Dave, Erica, Brenda, April, Anthony, the late Kyle, Tyler, Josh, Cailey, Paul, Dominic and Isaiah.

Mary loved to surround herself with family and was always creating unforgettable memories for those she cherished. She was "The Rock" of our family; she loved fiercely and unconditionally and was adored by all who had the privilege to know her. She enjoyed gardening, reading, puzzles, knitting, walking and hiking, and riding on the back of her husbands Harley. Mary was a nurse for over 40 years; she was devoted to her career and loved nothing more than nurturing and caring for others.

A special thank you to Dr. Jonathan Thompson and staff at Froedtert Hospital; for the diligent care and compassion they showed to Mary and her family during this incredibly difficult journey. Also a huge thank you to the amazing staff on the 8th floor of SFAC and the NICU.

A memorial gathering will take place at Southbrook Church, 11010 W. Saint Martins Rd, Franklin, on Saturday September 28th. The family will receive friends from 2pm until the 4pm service time; with a private burial at a later date. In lieu of flowers, memorials may be made to the Lung Cancer Foundation of America in Mary's name.
https://secure.lcfamerica.org/MaryMackey

The Lord is my Shepard, I shall not be in want. He makes me lie down in green pastures, he leads me beside quiet waters, he restores my soul. He guides me in paths of righteousness for his name's sake. Even though I walk through the valley of the shadow of death, I will fear no evil, for you are with me; your rod and your staff, they comfort me. You prepare a table before me in the presence of my enemies. You anoint my head with oil; my cup overflows. Surely goodness and love will follow me all the days of my life, and I will dwell in the house of the Lord forever. Psalms 23
ABOUT A Life Remembered: In Tribute
We honor those we've lost to lung cancer by raising funds for lung cancer research. It is through innovative and groundbreaking research that we can dramatically improve the survivorship of lung cancer patients. Because life should take your breath away. Not lung cancer.
"When someone you love becomes a memory, the memory becomes a treasure." - Unknown
---
Proceeds from these tributes will be used to support LCFA's mission
LCFA's mission is the improvement in survivorship of lung cancer patients through the funding of transformative science. While raising funds to support lung cancer research, LCFA will raise the public's awareness and serve as a resource for patients or anyone seeking answers, hope, and access to updated treatment information, scientific investigation, and clinical trials.
Lung Cancer Foundation of America is a 501(c)(3) nonprofit corporation. Your donation is tax-deductible to the full extent of the law.
---
Need help getting started? Check out how to create a page or see our FAQs.
Supporters
Name
Date
Amount
Comments
Gina Schiek
12/19/2019
$50.00
maureen krolikowski
12/07/2019
$50.00
She is always with you Gina!
Chris and Jenny Martineau
10/12/2019
$150.00
She was a wonderful woman that was taken too soon.
John Swiertz
10/03/2019
$25.00
Weyco Group Accounting Department
09/30/2019
$150.00
In memory of Mary Mackey, from your friends in the accounting department at Weyco Group, Inc.
Tammy Schiek
09/28/2019
$50.00
Mary epitomized all that is good in this world. May her legacy continue in the hearts of those who knew and loved her.
Molly Schuld
09/27/2019
$40.00
Andrea and Omar - I'm so very sorry for your loss. You and your family are in my heart and prayers. May Mary rest easy and may her strength continue to live on in you and so many others.
Kathryn Mackey Dennis
09/24/2019
$100.00
From Katie, Mike, Brianna, & Billy We miss you already Yaya!
Total
$615.00
Report Abuse
Edit My Page