Norma Gallo's Fundraising Page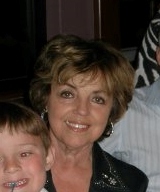 Hello friends,
Thank you for taking the time to help out. Ever since losing Norma on November 7, 2017 to her battle with lung cancer, I have been looking for a way to honor her memory as well as giving friends and family a way to assist me in this endeavor. I was told years ago that the Susan G. Komen Cure for Breast Cancer has been wildly successful. Their campaign has been so successful the breast cancer research receives 90% of all cancer research donations. Unfortunately, it leaves all of the other cancer research combined to share the remaining 10%. That is why, I have set a goal for 2022 to donate $30,000.00 to The Lung Cancer Foundation of America. The donations will come from my closed real estate transactions, where my friends and or family have chosen to use or recommend my professional services to another. I felt this would make it as simple as possible for friends and family to join in. I am not asking for direct donations but if you would like, they are welcome. My mother was a great sales professional, Norma's drive, sense of humor and energy inspired me to get into sales many years ago. I can think of no better way for me to honor my mother and contribute to a great cause in her memory.
ABOUT A Life Remembered: In Tribute
We honor those we've lost to lung cancer by raising funds for lung cancer research. It is through innovative and groundbreaking research that we can dramatically improve the survivorship of lung cancer patients. Because life should take your breath away. Not lung cancer.
"When someone you love becomes a memory, the memory becomes a treasure." - Unknown
---
Proceeds from these tributes will be used to support LCFA's mission
LCFA's mission is the improvement in survivorship of lung cancer patients through the funding of transformative science. While raising funds to support lung cancer research, LCFA will raise the public's awareness and serve as a resource for patients or anyone seeking answers, hope, and access to updated treatment information, scientific investigation, and clinical trials.
Lung Cancer Foundation of America is a 501(c)(3) nonprofit corporation. Your donation is tax-deductible to the full extent of the law.
---
Need help getting started? Check out how to create a page or see our FAQs.
Supporters
Name
Date
Amount
Comments
Total
$0.00
Report Abuse
Edit My Page