Fathers Day 2019's Fundraising Page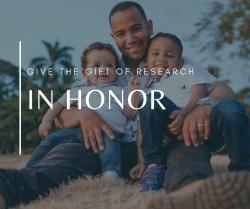 What better way to honor your father than to give the gift of research? Lung cancer research is moving the lung cancer survival rate up every year and lung cancer physicians are now saying that we can think about lung cancer as a chronic disease that is manageable with treatments. Research is the key! What a gift!
ABOUT Give the Gift of Research in Honor of Someone
By honoring a special person fighting lung cancer or in lieu of gifts for a special day, you can make a difference.
The facts around lung cancer speak volumes. Lung cancer poses a threat to anyone with lungs. Thankfully new research, diagnosis, and treatment breakthroughs in the last 10 years have brought new hope to patients and their families. But we still have far to go—your contributions through this fundraising page will help LCFA fund more young researcher grants and scholarships while raising awareness of the vital need for more research funding for lung cancer detection, diagnosis, and treatment.
---
Need help getting started? Check out how to create a page or see our FAQs.
Supporters
Name
Date
Amount
Comments
Total
$0.00
Report Abuse
Edit My Page