In memory of Norton Buffalo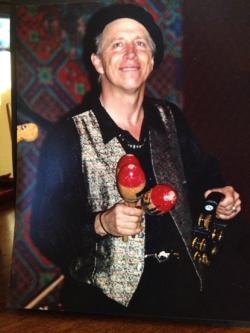 It has been 10 years this October that our beloved Norton Buffalo crossed 'Over the Rainbow' to a musical heaven he had previously only talked about. Norton was a fighter and did his best to fight the Stage 4 Lung Cancer he had been diagnosed with, but once metastasizing to his brain the days grew fewer. Norton was comfortable with is spirituality and death and was at peace moving on to his next chapter although he wasn't ready to say goodbye to his family and friends.
Norton was raised in the San Francisco Bay Area living most of his life in the Valley of the Moon (Sonoma, CA) where he built his musical career, married and raised his family. He later moved with his wife Lisa to Paradise, CA where he was very involved in his community and spent his final days.
Norton was a loving husband, son-in-law, dad, step-dad, brother, brother-in-law, uncle, great uncle as well as dear friend to many, many people around the world. We all miss him dearly and do our best to keep his musical legacy alive.
When Norton passed, he had played on over 180 albums, played in several movies, led Norton and the Knockouts, Norton and Friends, while also playing with the Steve Miller Band for over 30 years.
We are celebrating Norton on this 10 year anniversary of his death by holding a Memorial Celebration at the Sonoma Valley Veterans Memorial Building in Sonoma, CA on November 17th from 2-8pm.Proceeds from the ticket sales will be donated to Lung Cancer of America and Mr. Music Foundations or you can donate directly here. Tickets for the event are avaialble here.
ABOUT A Life Remembered: In Tribute
We honor those we've lost to lung cancer by raising funds for lung cancer research. It is through innovative and groundbreaking research that we can dramatically improve the survivorship of lung cancer patients. Because life should take your breath away. Not lung cancer.
"When someone you love becomes a memory, the memory becomes a treasure." - Unknown
---
Proceeds from these tributes will be used to support LCFA's mission
LCFA's mission is the improvement in survivorship of lung cancer patients through the funding of transformative science. While raising funds to support lung cancer research, LCFA will raise the public's awareness and serve as a resource for patients or anyone seeking answers, hope, and access to updated treatment information, scientific investigation, and clinical trials.
Lung Cancer Foundation of America is a 501(c)(3) nonprofit corporation. Your donation is tax-deductible to the full extent of the law.
---
Need help getting started? Check out how to create a page or see our FAQs.
Supporters
Name
Date
Amount
Comments
Josephine & Patrick Murphy
11/16/2019
$100.00
In memory of my brother, Norton.
Cheryl Schwab
11/16/2019
$75.00
Total
$175.00
Report Abuse
Edit My Page